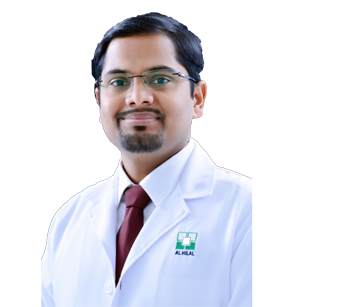 DR IMITH KODUNGOOKARAN
Specialist Orthopedics
Orthopaedics
MBBS, MS
7 years of experience
Salmabad (Bahrain)
About DR IMITH KODUNGOOKARAN
Dr Imith Kodungookaran is a committed and patient-centric Orthopaedic Surgeon with extensive experience in his field. He has trained and worked in some of the best hospitals, garnering immense expertise along the way. He is an expert in orthopaedic surgeries including arthroplasty, hemiarthroplasty, CTEV corrections, tendon repairs, soft tissue releases, upper and lower limb fractures. Aside from managing the OP, he handles both elective and emergency cases. Needless to say, he is excellent in trauma cases. Dr Imith believes in keeping his knowledge updated and attends CMEs and conferences when possible.
Excellence & Experience
Area of excellence
Internal fixation on upper and lower limb fractures
Hemiarthroplasty
Pedicle screw fixation of the spine
CTEV correction
Tendon repairs
Soft tissue releases
External fixator
Ilizarov fixation
Level of Experience
Senior resident - Govt Medical College, Manjeri, India - 2015-2016
Orthopaedic Consultant - TMH hospital, Calicut, India - 2016-2017
Senior Resident - PK Das Medical College, Palakkad, India - Mar 2017- July 2017
NIMS hospital Malappuram, India - 2017-2018
Al Hilal, Manama, Bahrain - 2018- to Date
Awards & Academics
Academics Details
MBBS - Pushpagiri Institute of Medical Science and Research Centre - 2010
MS Orthopaedics - Govt. Medical College, Kottayam, India - 2015
Out Patient Timings
The outpatient timings at Badr Al Samaa Hospitals have been planned in such a way that your choice of doctor is available whenever you are free.
Sunday
9:00 AM - 1:00 PM
Salmabad - Bahrain
5:00 PM - 9:00 PM
Salmabad - Bahrain
Monday
9:00 AM - 1:00 PM
Salmabad - Bahrain
5:00 PM - 9:00 PM
Salmabad - Bahrain
Tuesday
9:00 AM - 1:00 PM
Salmabad - Bahrain
5:00 PM - 9:00 PM
Salmabad - Bahrain
Wednesday
9:00 AM - 1:00 PM
Salmabad - Bahrain
5:00 PM - 9:00 PM
Salmabad - Bahrain
Thursday
9:00 PM - 1:00 PM
Salmabad - Bahrain
5:00 PM - 9:00 PM
Salmabad - Bahrain
Friday
Saturday
9:00 AM - 1:00 PM
Salmabad - Bahrain
5:00 PM - 9:00 PM
Salmabad - Bahrain