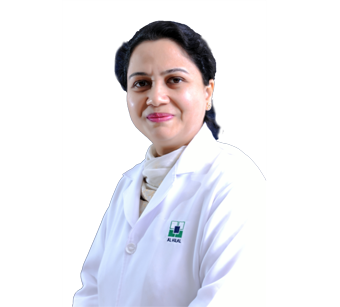 DR SHILPA B
Specialist - Ophthalmology
Ophthalmology
MBBS, MS Ophthalmology
21 years of experience
Salmabad (Bahrain)
About DR SHILPA B
Dr Shilpa is a highly experienced Ophthalmologist with over two decades of experience behind her. Her training and work have taken her from India to Saudi Arabia and onto Bahrain, giving her hands-on experience in treating various eye diseases. She is an expert in the treatment of diseases of the eyelids as well as of the lacrimal glands system. She is also interested in the diagnosis and treatment of conditions of the cornea and retina with a special interest in glaucoma and cataract in Diabetic patients. She is proficient in caring for both pediatric and adult patients.
Excellence & Experience
Area of excellence
Diagnosis and treatment of eyelid diseases and lacrimal system diseases
Diagnosis & treatment of corneal and Retinal diseases
Diagnosis & treatment of glaucoma and cataract
Refraction in children & adults
Level of Experience
Worked in KSA for 7 Years
Working in Bahrain since 2011
Awards & Academics
Academics Details
MBBS - Grant Medical College - JJ Group of Hospitals, Mumbai, India - 1995
MS (Ophthalmology) - G S Medical College, KVM Hospital, Mumbai, India - 1998
Out Patient Timings
The outpatient timings at Badr Al Samaa Hospitals have been planned in such a way that your choice of doctor is available whenever you are free.
Sunday
9:00 AM - 1:00 PM
Salmabad - Bahrain
5:30 PM - 9:30 PM
Salmabad - Bahrain
Monday
9:00 AM - 1:00 PM
Salmabad - Bahrain
5:30 PM - 9:30 PM
Salmabad - Bahrain
Tuesday
9:00 AM - 1:00 PM
Salmabad - Bahrain
5:30 PM - 9:30 PM
Salmabad - Bahrain
Wednesday
9:00 AM - 1:00 PM
Salmabad - Bahrain
5:30 PM - 9:30 PM
Salmabad - Bahrain
Thursday
9:00 AM - 1:00 PM
Salmabad - Bahrain
5:30 PM - 9:30 PM
Salmabad - Bahrain
Friday
Saturday
9:00 AM - 1:00 PM
Salmabad - Bahrain
5:30 PM - 9:30 PM
Salmabad - Bahrain