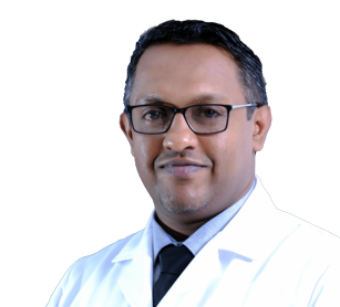 DR SHEJU THOMAS
Paediatrician
Paediatrics & Neonatology
MBBS, MD - PAEDIATRICS
9 years of experience
Salmabad (Bahrain)
About DR SHEJU THOMAS
Dr Sheju Thomas is a highly professional pediatrician with over 6 years of experience behind him. He has had hands-on experience in handling a variety of disease conditions in children during his training and work, making him an excellent pediatrician in the process. He is an expert in the management of various diseases that affect children and neonates. He is also very skilled in the care of preterm neonates and their unique needs and manages the neonatal ICU with thorough expertise. Dr Sheju is very organised and child-friendly when it comes to dealing with pediatric emergencies too.
Excellence & Experience
Area of excellence
Expertise in basic consultation, diagnosis and management of pediatric and neonatal diseases
Experience in pediatric and neonatal ICU management and procedures
Experience in pediatric emergencies
Level of Experience
GP - Lakshmi Hospital, Ernakulam, India - 2007-2009
Pediatrician - Lifeline Hospital, Adoor, India - 2014-2014
Consultant Pediatrician - Holy Cross Super Specialty Hospital, Kottayam, India – 2014-2016
Consultant - Rajagiri Hospital, Aluva, India - 2016-2018
Awards & Academics
Academics Details
MBBS - SSMC, Tumkur, Karnataka, India
MD (Pediatrics) - AJ Hospital, Mangalore, Karnataka, India
Out Patient Timings
The outpatient timings at Badr Al Samaa Hospitals have been planned in such a way that your choice of doctor is available whenever you are free.
Sunday
9:00 AM - 1:00 PM
Salmabad - Bahrain
5:00 PM - 9:00 PM
Salmabad - Bahrain
Monday
9:00 AM - 1:00 PM
Salmabad - Bahrain
5:00 PM - 9:00 PM
Salmabad - Bahrain
Tuesday
9:00 AM - 1:00 PM
Salmabad - Bahrain
5:00 PM - 9:00 PM
Salmabad - Bahrain
Wednesday
9:00 AM - 1:00 PM
Salmabad - Bahrain
5:00 PM - 9:00 PM
Salmabad - Bahrain
Thursday
9:00 AM - 1:00 PM
Salmabad - Bahrain
5:00 PM - 9:00 PM
Salmabad - Bahrain
Friday
Saturday
9:00 AM - 1:00 PM
Salmabad - Bahrain
5:00 PM - 9:00 PM
Salmabad - Bahrain