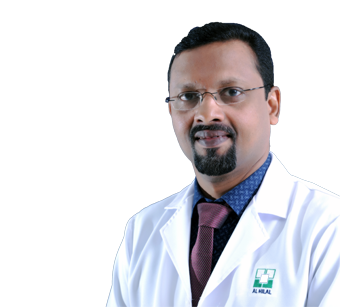 DR BINU A V
Internal Medicine
Internal Medicine
MBBS, MD
22 years of experience
Salmabad (Bahrain)
About DR BINU A V
Dr Binu is a Specialist in Internal Medicine with over 19 years of professional experience. He is very conversant with comprehensive care for all types of disease conditions. He takes care of the OP, inpatients as well as patients in Medical ICU. He is very skilled in the treatment and management of communicable and non-communicable diseases in both paediatric and adult patients. Aside from this, he is an expert in various procedures including endotracheal intubation, bone marrow aspiration for biopsy, lumbar puncture, peripheral and central line insertion, etc. He also has many presentations and publications to his credit.
Excellence & Experience
Area of excellence
Communicable and Non-communicable diseases
Peripheral and central lines insertion
Endotracheal Intubation
Bone Marrow aspiration and biopsy
Lumbar puncture
Level of Experience
Post PG experience - 3 year 5 months
Post MBBS experience- 16 years
Awards & Academics
Academics Details
MBBS - T.D Medical College Alleppey, India
MD (Internal Medicine) - CMC Ludhiana, Punjab, India
Out Patient Timings
The outpatient timings at Badr Al Samaa Hospitals have been planned in such a way that your choice of doctor is available whenever you are free.
Sunday
9:00 AM - 1:00 PM
Salmabad - Bahrain
5:30 PM - 9:30 PM
Salmabad - Bahrain
Monday
9:00 AM - 1:00 PM
Salmabad - Bahrain
5:30 PM - 9:30 PM
Salmabad - Bahrain
Tuesday
9:00 AM - 1:00 PM
Salmabad - Bahrain
5:30 PM - 9:30 PM
Salmabad - Bahrain
Wednesday
9:00 AM - 1:00 PM
Salmabad - Bahrain
5:30 PM - 9:30 PM
Salmabad - Bahrain
Thursday
9:00 AM - 1:00 PM
Salmabad - Bahrain
5:30 PM - 9:30 PM
Salmabad - Bahrain
Friday
Saturday
9:00 AM - 1:00 PM
Salmabad - Bahrain
5:30 PM - 9:30 PM
Salmabad - Bahrain