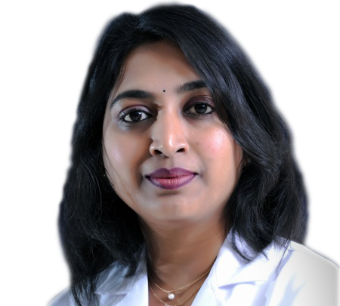 DR MAHAVIDYALAKSHMI NATARAJAN
Specialist Radiologist
Radiology
MBBS, MD- Radiology
7 years of experience
Salmabad (Bahrain)
About DR MAHAVIDYALAKSHMI NATARAJAN
Dr Mahavidhyalakshmi Natarajan is a specialist in radiology with a lot of experience under her belt. She is excellent in evaluating her patient's medical history. She consults with referring physicians to choose the best method of radio-diagnosis for assisting in illness or injury care. She is proficient in diagnostic radiology and basic procedures including the execution of Barium meal studies, Ultrasound studies of the abdomen and obstetrics and gynecological studies. Aside from this, she is experienced in Doppler studies and other imaging modalities including CT and MRI scanning. She also attends conferences to stay updated and has presented research papers too.
Excellence & Experience
Area of excellence
Expertise in execution of basic investigations in Barium studies, USG abdomen & Obstetrics and Gynaecology
Doppler studies and reporting of imaging modalities including whole-body CT and MRI DWI
Performing investigations in Perfusion Imaging, CT cardiac and coronary imaging under the supervision of consultant faculty
Provide pre- and post-procedural care to patients undergoing Conventional imaging, CT, MRI and image-guided interventions.
Expertise in evaluating the patients in tandem with Physicians and working with medical professionals to choose the best method of radiology for assisting in the diagnosis of illness or injury
Level of Experience
Consultant Radiologist - Macare(6 Months)
Consultant Radiologist - Medall Diagnostic Service Centre (1 Year)
Post graduate in Narayana Health City, Bangalore (3 Years)
Awards & Academics
Academics Details
MBBS
MD - Radiology
Foetal echocardiography- Sonoscan – Oct 2017
Out Patient Timings
The outpatient timings at Badr Al Samaa Hospitals have been planned in such a way that your choice of doctor is available whenever you are free.
Sunday
9:00 PM - 12:00 PM
Salmabad - Bahrain
4:00 PM - 9:00 PM
Salmabad - Bahrain
Monday
9:00 AM - 12:00 PM
Salmabad - Bahrain
4:00 PM - 9:00 PM
Salmabad - Bahrain
Tuesday
9:00 AM - 12:00 PM
Salmabad - Bahrain
4:00 PM - 9:00 PM
Salmabad - Bahrain
Wednesday
9:00 AM - 12:00 PM
Salmabad - Bahrain
4:00 PM - 9:00 PM
Salmabad - Bahrain
Thursday
9:00 AM - 12:00 PM
Salmabad - Bahrain
4:00 PM - 9:00 PM
Salmabad - Bahrain
Friday
9:00 AM - 12:00 PM
Salmabad - Bahrain
4:00 PM - 9:00 PM
Salmabad - Bahrain
Saturday
9:00 AM - 12:00 PM
Salmabad - Bahrain
4:00 PM - 9:00 PM
Salmabad - Bahrain